Students walkout to support superintendent
On March 9, 2023 at 2:15 pm, a couple hundred students of Everett High School walked out during the final 15 minutes of period four to protest the Everett Public Schools committee's decision to not renew Superintendent Priya Tahiliani's contract.
The contract, which currently runs until March 2024, was not extended with a 6-4 vote during a School Committee meeting on March 6. According to the Boston Globe, Priya Tahiliani's tenure only came into question when she publicly accused Everett mayor Carlo DeMaria of racism, after years of tension between the two. 
EHS students Thalia Patino and Tiana Allen planned the walkout with help from other fellow students and outside sources. Outstanding members of the Everett community, Patino and Allen both worked effortlessly to organize this event and also spoke out at the event. 
Janene Johnson, a woman who works for Everett Public Schools, spoke out passionately at the walkout against the decision and the mayor as well. Johnson showed a lot of emotion and was engaged in her speech.  "It's very hurtful to be hated," Johnson said. "Many people are bullied for different reasons, but to be hated because of where you come from and your background and the color of your skin is no justification for that all."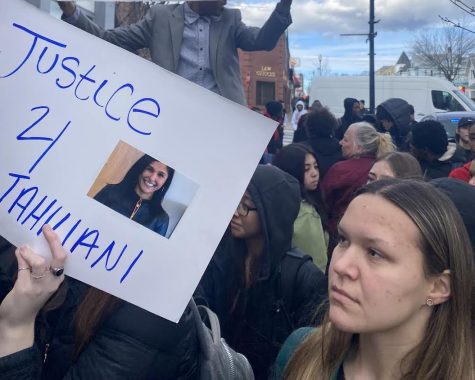 Most supporters of the superintendent, including the student organizers of the walkout, didn't think Tahiliani deserves the blame for low MCAS scores, which was one stated reason why some members of the Committee voted not to renew the contract.
"There is a higher standard for MCAS results now because they were like that before the pandemic," Patino said. "The pandemic has stunted our education growth. So MCAS scores obviously aren't gonna reach that level. If our education was broken, it was not broken because of Priya, it was broken because of the pandemic."
"To blame these things on Priya is grasping for straws," Allen said, "because if you want to blame that on somebody, it's not on her. If you want to talk about the MCAS, Priya is not the one to look at. She's not teaching us."
Some students participating in the walkout also believed that members of the School Committee who voted against renewing the contract were being unduly influenced by the Mayor.
 "If you are a doctor on a jury," Patino said, "everybody else is gonna be like, 'So doctor, what do you think?' You are automatically held to a higher standard than all of them and they are most likely going to follow you. If you are a mayor on the School Committee, you're the most important guy there. Therefore, the School Committee themselves were all influenced by the mayor's pressure."
"I think the first thing I felt was disgust," Allen said, "because we all sat up there as people of color, as students and we were like, 'We will know what you are voting for when you say no.' When you say no, we've heard all we needed to hear."
During the meeting, there was an overwhelming amount of support from not only Everett residents but EHS students and Everett Public Schools teachers. Damain Allen, a resident of Everett and the first speaker at the meeting, said that Tahiliani has a "wrap-around, holistic approach that takes into account the unique environment in Everett, a majority minority community."
Another Everett resident, Peggy Serrino, was deeply disappointed with the School Committee: "There are those of us who want to move forward, there are those of us who want to live in the past. Unfortunately, the superintendent is caught in the political crosshairs due to no fault of her own and certainly not responsible for what's going on."
However, not everyone was there to support Tahiliani, including EHS science teacher Nancy Cianchetta. "As we move back into a more familiar educational style," Cianchetta said during public comment at the meeting, "our new superintendent started to show some of the demanding and inflexible traits and even favoritism and intimidation tactics that many of us have experienced." 
Sophomore class president Emilia Babcock witnessed Cianchetta's speech firsthand. "Personally, I find it really offensive because she's supposed to be representing us like Ms. Tahiliani does, and I feel like she isn't here for us, she isn't supporting us," Babcock said. 
As a student journalist, covering the walkout was a great opportunity to see student activists in action, voicing their opinions. It was the perfect way for students to come together and voice their opinions on the superintendent, the school committee and the local government.