Sophomore Sophia Souze and family make 1500 masks and more to help community during pandemic
In a time when everything seems like it's collapsing and everyone is in it for themselves, it is nice to hear the story of someone who is selfless and willing to help others. Someone who truly cares about Everett and the people who live in Everett. Sophia Souse is a sophomore at Everett High who clearly has a passion for helping others in need.
During the pandemic, the hospital in Everett has been in dire need of help. Mask supplies have been low in order to accommodate the mass amount of people that have gotten affected by the virus. Sophia knew that she and her family could help, so they made around 1500 masks. As well as help over 400 families.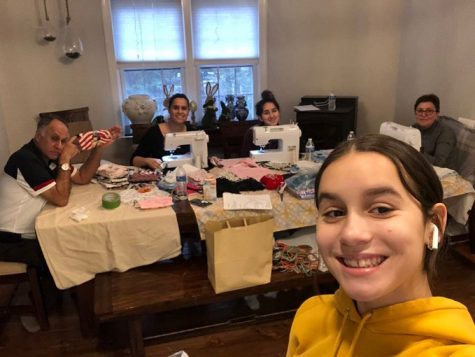 "We saw that the hospitals were running low on masks and we knew we could help. So my mom and grandma made them from scratch and donated around 1500 (masks) to the hospitals," Souse said.
They distributed the masks to the hospital in person, socially distanced of course. Once the New England Patriots' airplanes also brought in a bunch of masks, instead of stopping they decided to do more and help more.
"We had a bunch leftover and wanted to do something with them so we traded masks for food," sophomore Sophia Souse said.
She went above and beyond to help the community in Everett in many ways possible.
There were setbacks, however.  Because of Covid safe and obtainable material is hard to come by.
"It was super difficult finding elastic and fabric to make the masks but once everyone had masks and they started to sell them in stores and you could find them anywhere–that's when we started to sell the masks to trade for food," sophomore Sophia Souse said.
They also have their own hat company that they created to help more people with the money they gain.
"It's a Brazilian name called "os pe Vermelho ana America," Souse said. When everybody already had masks and we still had families who needed food, we knew we had to make something other than masks so we made those hats!"
Getting recognition for their effort was such an honor, especially because her family are immigrants.
"My mom was super honored to finally get recognized for all of her hard work," Souse said. Especially because my family is immigrants and never thought they would be fortunate to do something this special and get rewarded for it."
View Comments(1)
About the Contributor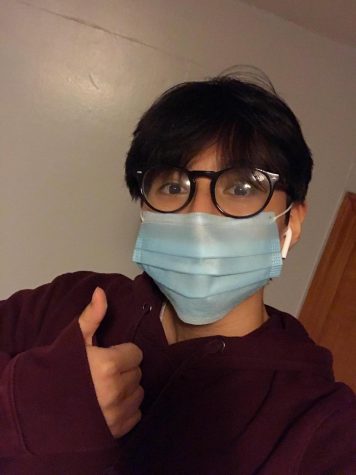 Abel Salazar, Reporter
Abel Salazar loves to sleep. On an average day with school, he usually sleeps for 12 hours. He doesn't do much besides doing homework and relaxing. He...