Colombian singer Sebastian Yatra's genre-fluid "Dharma" is best yet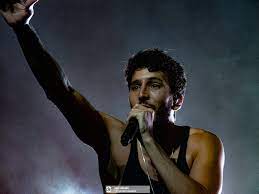 Three years after "Fantasia," Sebastián Yatra returns to the scene better than ever.
"Dharma" is a genre-fluid album released on Jan. 28, 2022, and consists of pop, reggaetón, cumbia, and ballads. Consisting of 17 songs, Yatra is known for breaking the rules and never sticking to one genre. He is also known for making many collaborations with other artists. 
According to Rolling Stone, Yatra says he named the album "Dharma" because it reflects a time when he was "accepting his own reality" and that the songs were therapy. He wanted to express his emotions through song and for his fans to be able to relate to it as well since it's been a hard time for everyone. 
In "Dharma," he collaborated with Daddy Yankee, Rauw Alejandro, Angeliq, and others. The album hit No. 2 on Latin Pop Albums, No.3 on Top Latin Albums, and No. 1 on the Spanish (Spain) charts. It won Best Pop Vocal Album at the 23rd annual Latin Grammy awards, Yatra's first win. 
Sebastian Yatra is a 27-year-old Colombian singer who has been in the Latin music industry since he was 19 when he released his first ever single, "El Psicólogo" in 2013. His first debut album in 2018, ''Mantra," established him as an international sensation, specifically with the song "Traicionera." Since then, he has released two more albums, "Fantasia" in 2019 and "Dharma" in 2022.
Yatra went on his first solo arena tour this past year. The tour lasted from Feb. 28 to Nov. 12, 2022. He went to Spain, Latin America, the U.S., and Canada. The concerts would go on for about two to three hours, with choreographed dances and sometimes he'd play the piano or the guitar.