Pandemic and advertising in charge of 'Among Us' success
COVID-19 pandemic and live-streaming platform Twitch increase downloads of popular spaceship video game Among Us by 3,500 percent worldwide. 
Two years after its launch, "Among Us," the trending online multiplayer game developed by InnerSloth, has seen a spike in users. With over 85 million downloads, this increase is due in part to the pandemic lockdown as well as the free advertisement this game has obtained via Twitch.
Twitch, the world's leading platform for gamers, saw its users playing "Among Us" during the lockdown. Because many of the world's most popular gamers were touting the appeal of the game, many millennials and Gen Z'ers downloaded the mobile application to play with friends or strangers. 
EHS marketing teacher Siobhan Sullivan says word-of-mouth marketing is a likely culprit for the success of the game. "When we are recommended to try something by our peers or people we trust, whether it's a new restaurant, game, or product, we're more likely, and more open, to trying it," Sullivan said.
"Word-of-mouth marketing is extremely powerful, due to the fact that we tend to believe the reviews of people we trust, be it negative or positive," Sullivan added. "So, because these influential gamers are basically telling people how great 'Among Us' is, more and more people are downloading it to see for themselves."
"Among Us" has become a means for students to socialize and stay connected despite the distance of remote learning. In class, Sullivan sometimes lets her junior students play the game at the end of class to relieve stress and allow for her students to interact with one another and build relationships.
"It helps me cope with stress," said Adriana Escobar '22. "Mostly because Ms. Sullivan's class is my last class of the day, so playing for a little distracts me and it helps me relax."
"Playing 'Among Us' is fun and it's a good distraction from any negativity that's happening around us," said Brisa Portillo '22. "It brings some serotonin when I win."
While the popularity of mobile games fades after a while, "Among Us" is on track to remain popular for a while. Just take it from Alexandria Ocasio-Cortez, U.S. representative, who used the game as a campaign strategy to motivate young voters to cast their ballots.
Currently, "Among Us" is ranked as the number one downloaded game in the Google Play Store, while in the Apple Store it is positioned in second place. 
The game ranks first in sales on the Steam platform, surpassing major franchise titles such as Marvel's Avengers: Time to Assemble, a Crystal Dynamics video game based on Marvel's superhero franchises.
Leave a Comment
About the Contributor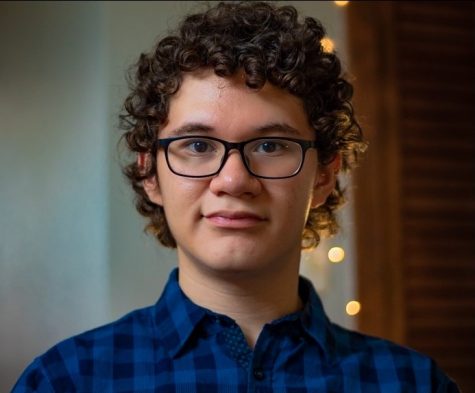 David Rivera, Photographer, Reporter
David Rivera is a senior at EHS. He's a photographer of the Crimson Times and a marketing student. Charisma and optimism are qualities that describe him...