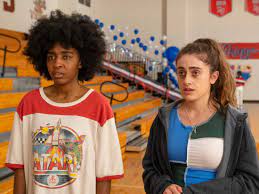 Over the years, teen movies adapted to their respective eras. In the 80s, we had movies such as "Revenge of the Nerds," "The Breakfast Club" and "Fast Times at Ridgemont High." The 90s were sort of a blur with "Cruel Intentions," "Dazed and Confused," "Jawbreakers" and, respectively, "The Craft" and "Scream." Teen movies hit their peak in the 2000s with movies like "The Princess Diaries," "Freaky Friday," "Mean Girls," "Juno," "Superbad," "The Sisterhood of the Traveling Pants" or the occasional awkward and unnecessary Hilary Duff movie cameo. 
Rachel Sennott and Emma Seligman have created a new cult classic teen movie masterpiece. "Bottoms," starring Ayo Edebiri (The Bear) and Rachel Sennott (Shiva Baby), is about two teen lesbian losers who create an all-women fight club to get closer to their crushes. One element that differentiates "Bottoms" from older cult classics, it appeals to the LGBTQIA+ audience. Unlike many teen movies, "Bottoms" specifically was meant for the girls, the gays and the girl gays. If we look back, teen movies didn't really have queer characters and if you saw one in between the lines, they would be compelled into heterosexuality (Ryan Evans from "High School Musical") or they would become the stereotype of their sexuality (Lexa Kom Trikru From "The 100"). 
Sennott and Seligman brilliantly make fun of these tropes and create a raunchy high school rom-com filled with queerness, exaggerated humor and satire. What also makes Bottoms a really interesting movie is the randomness of the casting. Starring alongside Sennott and Edebiri are actors Nicholas Galatzine ("Purple Hearts"), Havana Rose Liu ("No Exit"), Ruby Cruz ("Willow"), Miles Fowler ("Women of the Movement"), ex-football player Marshawn Lynch and model Kaia Gerber. Although an unconventional cast, each person plays an important part in the plot.
Ayo and Rachel play Josie and PJ, the two lesbian losers who have crushes and want to lose their virginity to the two most popular girls in school, Brittany (Gerber) and Isabel (Liu). Accompanied by Hazel, played by Ruby Cruz, Josie and PJ create an all-women fight club to protect women from their school's homicidal arch-nemesis football team, but mainly as a front to try to date Brittany and Isabel. Faced with many obstacles, Josie and PJ form a bond with the club members and end up saving their school's football team from their bloodthirsty arch rivals.
Another element that makes "Bottoms" unique to the teen movie cult classic genre is the soundtrack. With songs by British pop artist Charli XCX and American composer Leo Birenberg, the movie truly encompasses the cringeworthy, exaggerated and girly pop feeling. 
Sennott and Edebiri's performances were amazing. Recently entering the acting world, Edebiri is not what you would expect from a newcomer but she encompasses the teen lesbian loser role incredibly well and has become a favorite of the film. Sennott is no stranger to the typical girl loser role. Starring in "Shiva Baby" in 2020, Sennott plays Danielle, who attends a funeral with her Jewish parents and encounters her ex-girlfriend and sugar daddy in a really tense environment. Although Sennott and Edebiri are usually seen in supporting roles, they take charge in the film and make Josie and PJ memorable characters. 
"Bottoms" was a really fun watch and very funny. Initially, I felt like it was going to be a flop considering that queer women in film only work if the screenplay is a period piece, hence the movies "Ammonite," "Portrait of a Lady on Fire," etc. Although those films are a great watch, they can be a bit depressing. "Bottoms" is quite the opposite. Instead of a gloomy atmosphere, the movie mostly takes place in an adolescent environment, a high school. Filled with unruly teenage hormones, Sennott, Edebiri and Seligman navigate the complex world of teen loser lesbians, the difficulty posed to try and get a girlfriend and, of course, the inevitable power of friendship.