A tradition of girl power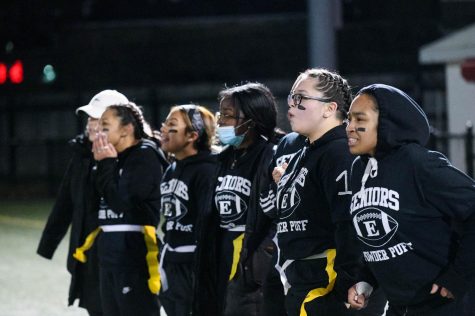 In an unprecedented year like this one, traditions have taken on added importance.
Happy to keep one alive after a tough year of at-home-school, nearly 70 senior girls took to the Everett Stadium field for the annual Powder Puff flag football tournament on Nov. 23. 
The tradition dates back decades, and it was a welcome return for 12th grade girls after Covid wiped out last Thanksgiving's typically friendly-but-fiery outing. 
"Some of my (graduated) friends were playing and I thought, 'Oh I want to do that,'" said Lakisha Kirnon, a standout for the purple team. "They said it was so much fun and they had a good experience, too." 
That's why this year's turnout was so high. 
Girls of assorted athletic ability and experience signed up for what is usually a week of practices leading up to the big games. The seniors are split into four squads (pink, purple, blue and black), with the champions expected to win two games in order to hoist the coveted trophy. The blistering cold wiped out this year's consolation games, but the stands were still packed with cheering students, parents and a supportive football team that was happy to loan its turf to the ladies. 
"It was such a great experience," said blue teamer Jasmine Rivas. "It was fun but it was competitive. Practice seems fun and easy, but when you're going up against the other team it's like real life. This is happening. The coaches were really into it, though, and they give you great advice about not just winning, but remembering to have fun out there." 
Mr. Oppedisano and Ms. Buckley led the pink team to this year's title, edging the Purple squad coached by Mr. LeGrow and Ms. Seiders in the final. The blue squad, led by Mr. Persuitte and Ms. Devino, gave Pink all they could handle in the opening round; while first-time coaches Mr. Appleby and Ms. Korb led the black team. 
"I went from cheering in the stands as a freshman to playing on the field as a senior," said blue team member Jackie Abranches. "At the end of the day, yeah, I'm playing to win, but these are memories that will last a lifetime and we have to enjoy them while we are young." 
Members of the title-winning pink team said the championship made the chill a little more bearable. Marielle Riccioli, a senior transfer, said she felt "amazing energy" from her teammates and new classmates throughout practice week, and they rose to the occasion.
"I really felt like we were going to do good," she said. "I had high hopes and we had so much fun." 
Oppedisano and Buckley get to hold onto the trophy until next Thanksgiving Tuesday, at which point many of the underclassmen who came bearing signs, facepaint and cheering for friends will take the field in their own long-awaited moment under the lights.
"I had an absolute blast," Buckley said. "I have a good relationship with a lot of the senior girls, and it was fun to see how into it they all were. At the same time, it wasn't contentious. It was competitive and fun, and I was so proud of how committed our team was for the two weeks leading up to it. It really showed on game night, and all four teams were so great."