Students walkout to protest racism at City Hall; two city officials resign
On Monday, May 23 at 1 p.m., hundreds of students walked out of Everett High peacefully to protest against racist behavior occurring within City Hall, after news about racist jokes and comments in text threads and Zoom calls among City officials–most notably City Councilor Anthony DiPierro–quickly spread among the students.
Students marched to City Hall, where they chanted, gave speeches with a megaphone, and held up posters to express their point of view. Students wanted to make sure their voices could be heard.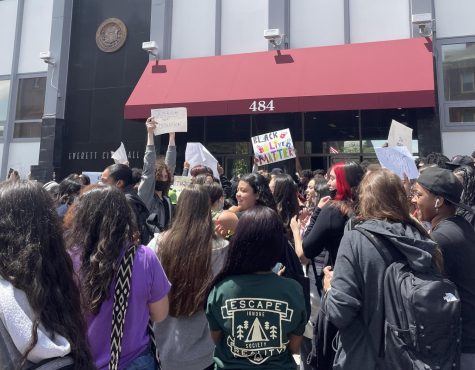 About thirty minutes before the walkout, DiPierro resigned, as did the Communications Director involved. Councilor DiPierro had received backlash for racist images in messages he sent to other city workers. 
Superintendent of Schools Priya Tahiliani had previously asked that DiPierro step down from his seat. DiPierro's actions hurt and affected many people, and students believed that the "ongoing investigations" were not holding these officials accountable. 
Various news sources in Boston reported on the walkout and the issues leading up to it, interviewing students and other bystanders, along with parents and adults. 
"The walkout turned out really good," sophomore Kenzie Powers said. "The students did a really good job with the posters and signs they made, and it ended up being very persuasive. We had a very big impact on the people of City Hall and made them realize that we weren't taking it as a joke like they thought we would."
"It got the message across," Powers added.
"I liked it a lot," sophomore Pablo Kauan said. "It was a good experience with a good purpose and I would definitely like to be involved in another protest if we do another one. I heard many people saying that it wasn't worth it, but I think the opposite. It's not like if five of us speak up it would make a difference, but if we all do it together we may have the chance to make a difference." 
"I have the feeling that it took us too long to do it," Kauan added. "We should have done it sooner, but at least we did it and that's what matters. I think it was an amazing idea for the students to be more involved with the things that happen in the city. It made some of us pay more attention to our surroundings, and make decisions as part of the community." 
"I did this because I feel like the students should have a voice and should be heard to end this racism," sophomore Marvens Seide said. "It was great. It was nice to have the students come together as a group and all have our voices heard. The people who really needed to say something said it and didn't hold back."
"I think it's great that students are actually standing up for what they believe in," an anonymous teacher said. "I believe that racism and discrimination happen, even if they have been around for a really long time, they become more noticeable, and I feel like there is a lot of hate going around,  so I am really proud of students doing things that they believe in. They had a peaceful protest, so I agree."
The Crimson Times initially reported on the controversy back on April 5. Read that story here: https://ehscrimsontimes.com/1311/showcase/students-react-to-city-council-race-controversy/