Sarai keeps fighting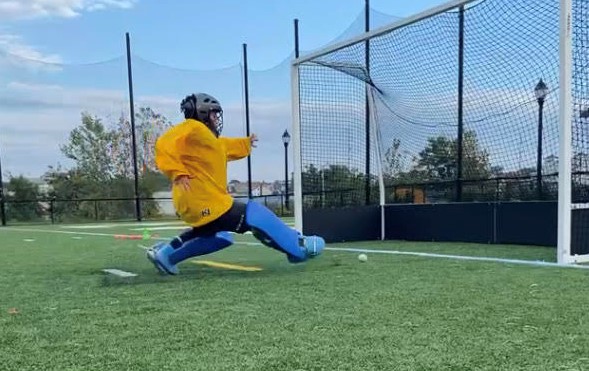 Sarai Velez doesn't want to be a pity story.
She knows what you're thinking. That's the girl. The one who beat cancer last year. The one who was on the news as her classmates and teachers paraded, mid-pandemic, past her home to lift her spirits.
Last year, Velez, a 17-year-old senior, was diagnosed with stage two Hodgkins Lymphoma, a cancer that attacks the immune system, but that didn't stop her from pursuing her passion.
Before being diagnosed, she was a typical student having fun with her friends and peers. She loved her role as a goalkeeper on the field hockey team, pushing herself to improve all four years at EHS. Who would have thought this would be the result when Ms.Walls, a guidance counselor, promised to buy Velez a strawberry Coolata if she tried out.
Sarai fell in love immediately.
"I liked hitting people, it brought me energy," she said. "It gave me a lot of adrenaline. I liked meeting new people, and I really liked feeling like I was in charge out there."
That adrenaline – and improvement – made her someone her teammates fed off, and when Velez underwent her treatments last year, her absence was felt.
"But she was always happy," said senior teammate Melissa Lopez. "Throughout all the difficulty, the chemo, all the treatments, she was always upbeat. Obnoxious and loud. That's just who she is and she didn't let that change her whatsoever."
Velez confessed how hard it was to not be allowed to play. She begged her doctors for a compromise.
"I could play for thirty minutes, max," she sadly expressed. "Coach (Melissa O'Donnell) would tell me to sit down and I wouldn't listen. I used to play full games without needing a break!"
Typical Sarai – pushing herself even after doctors' orders. Her friends helped her through her unfavorable moments.
"She's just an amazing friend," said senior Kaylnn Seward, "and I only knew her as a goalie but she's an amazing one."
Many people got together and helped organize a parade to show their support and how much unity the school and community have for Velez. Her friend, Seward, was among them.
"I really wanted to make sure she knew she had a support system, it was never through pity," she said. "Playing through Covid, she was so sad, and she would get frustrated not being able to play the thing she loved. After all her chemotherapy, she got over it and she is still capable of making jokes. It feels like the meaning of living."
As she steadily improved this year, so did the team. The field hockey team wrapped the fall with a 7-7-1 record and nearly qualified for the state tournament. Velez has improved enough to attract the attention of several college coaches, but she said it's unlikely she will play in college because of all the time she missed.
Still, she doesn't want the label of "the girl with cancer" and certainly doesn't want to be seen differently. Having cancer taught her to take risks, live more, be more mature and emotional, while at the same time being more confident in herself and the decisions she makes.
Now she's focusing on finishing high school and enjoying her time with friends before they all decide their next step.