Save the best for last! Culinary and marketing departments team up to continue Thanksgiving pie-selling tradition
Dinner is over, empty plates and dirty silverware are scattered all over the dining table. Siblings and cousins, uncles and aunts, moms and dads all sigh contentedly after Thanksgiving dinner. But everyone perks up when dessert is brought to the table: Thanksgiving pie.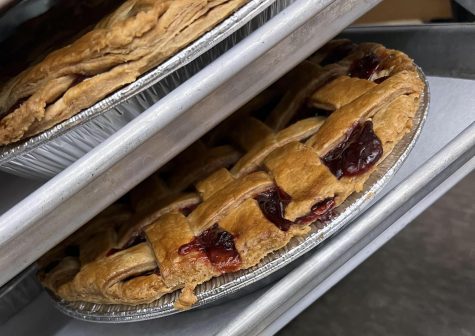 At Everett High School, the culinary and marketing teams have partnered to hold an annual fundraiser selling Thanksgiving pies.
"I have been working here in the school for 20 years and in 2011, I brainstormed the idea of selling pies to raise money for my culinary classes," chef Carolyn Parmenter said. "Since then we have managed to keep the tradition alive, and this year nothing changed.
"We also collaborated with the marketing students," Parmenter said. "Every year we make about 175 pies, and with the help of the marketing students, we had our first pre-sale, which went pretty well."
Seven different flavors of pies are available: apple crumb, apple, blueberry crumb, blueberry, cherry lattice, pumpkin and pecan. 
All ingredients we use to make the pies are provided by US Foods and all the money collected from the sales goes to the academies involved in the fundraiser. Pies cost $20 each (or two for $30). Payments are sent to the marketing team. From there, the culinary students deliver the pies directly to the classroom.
"That's actually how this started," marketing teacher Siobhan Sullivan said. "I reached out to culinary because we sold candles right before winter break last year and I asked if they wanted to collaborate on selling cookies before winter break, so we would sell, label, package, and deliver them similar to how we're doing with the pies."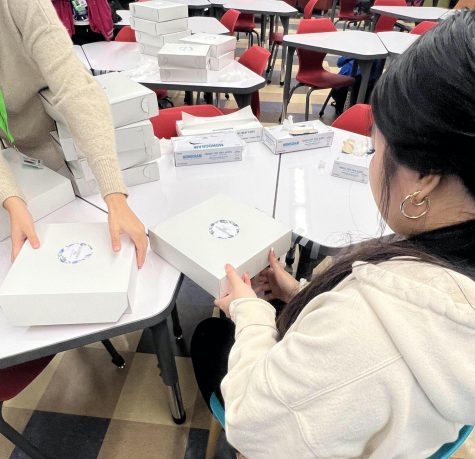 "We're using Google sheets to take orders and send emails to everyone for the orders they want to confirm and tell them their balance due," Sullivan said. "We're collecting cash and making labels as well as boxing the pies to get that hands-on experience." 
There were a lot of new staff in the building who were willing to help those students with their fundraising but what really surprised us was those that have been buying the pies for years now. 
"I ordered two pies this year," history teacher Dominic Persuitte said. "I wanted to support the students like I have been doing for the past few years. The pies are extremely delicious and I think it would be a great option to sell them to students, too.
"By the way, everything the culinary students do is delicious, not just the pies," Persuitte said. 
"The fundraiser is a really lovely way to help the culinary students," biology teacher Neira Davis said. "We also need pies to celebrate Thanksgiving and that's a great way to help the students."
"I'm not originally from the US, but I love Thanksgiving," Davis said. "And when I think about Thanksgiving I mostly think about pies. I think it's a great choice of dessert, I love sweets and cannot think about Thanksgiving without pies."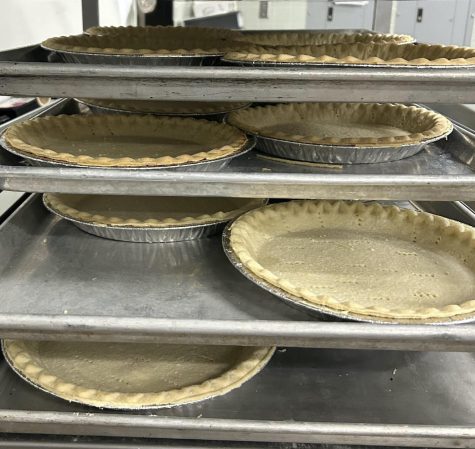 "It's a way to inform people about the great things in culinary," English teacher Staci Fleury said. "We get to see the final products on what our students have been working so hard on. " 
"I think it's great to see students get to work,"  Fleury said. "They are learning great skills in culinary and it's just nice to see the outcome. I've also heard that the pies are in high demand. People have been saying if you want to get pies to get them right away because they sell out quickly and that speaks a lot about the community of Everett and that to me is inspiring."
"It's a nice way to give back to the community," senior Natalia Leal said. "It's a great way of fundraising money because pies are good and delicious."
"I would want to participate since they have the flavors that I'm interested in like key lime, pumpkin, and cherry," Leal said. "Since the pies are handmade, the price is fair too."