Our six-word memoirs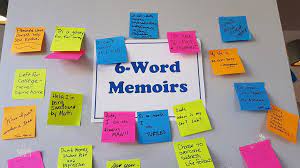 We recently asked students to tell the stories of their lives in just six words.  Here's what they came up with.
A story of zigs and zags.
I should've listened to stranger danger.
I dreamed about New York City.
Everything is just so confusing.
Mom says no, brother says yes.
A laugh and half a smile.
Three hours is already too long.
Better have it now than later.
My life is a massive joke.
Not everything is as you expect.
The man who once was good.
Love your pain, watch it fade. 
Divorced parents, lonely thoughts, happy growth. 
Trying not to take life seriously.
Blessed to be the only child.
Yes, I was born with sickle-cell!
So much passion, so little time.
Time to embrace adulthood that awaits.
My front teeth were non-existent.
Born in Brazil, living American Dream. 
The past, the present, and future.
Big smile, big checks, very caring. 
Crazy amazing horrible fantastic amusing life.
Your reality can become someone's illusion.
Football, and really nothing else much.
For Halloween I was a chicken.
Went to Florida alone, in pandemic. 
Born an angel, broke his wings.
Being the oldest in a household.
What in wonderland is going on?
Challenging yet worth all of it. 
And to those I love, thanks.
Am I being annoying right now?
She's always doing her own thing.
Church, school, football–my long days.
House of love and anxious life.
Blessed to be identified as Nepalese.
I would say it's pretty complicated.
Busy days, procrastination, friends to remember.
Can you help me with this?
I was born April 1, 2004.
Moved to U.S., left my dad.
Never give up, keep pushing yourself.
It could always be way worse.