Students show extraordinary skills in virtual talent show
In the times of remote learning, moments when Everett High School can connect as a community are rare.  But on Tuesday, December 22, a group of Everett High's amazingly talented staff and students came together to create the remarkable "Crimson Tide's Got Talent" to bring our community together before the holidays. 
Hosts Mr. McCarthy and Ms. Dunn along with a panel of judges comprised of EHS staff members made the evening hilarious, entertaining, and even heartfelt.  Participants showcased everything from singing to dancing to gaming一and even cooking!  In case you missed it, here's a wrap-up of the top three performances.
In third place, and the first student act in the show, was Emily Buss, singing "I Will Always Love You" by Whitney Houston.  Her performance set the bar extremely high for the rest of the evening.  As any singer knows, Whitney Houston is just about the most difficult artist to cover, but Emily pulled it off beautifully.  Her incredible range and impeccable vocal technique left the judges speechless.  We were unable to get an interview with her, but her fantastic performance spoke for itself.
In second place was junior Carl Durham, who's rendition of "Allstar" by Smash Mouth was extremely entertaining and, dare we say, iconic.  Durham, a triple threat, sang, danced, and played the melodica, which is, in fact, a real instrument that he has been honing his skills in for a little over a year.  The melodica is played by blowing air into a mouthpiece and pressing keys on a connected keyboard, and it is commonly used in Jamaican dub and reggae music. 
This was not Durham's first dabble in the performing arts.  He was in chorus from fifth to seventh grade and has been a member of the theatre club since his freshman year, but he has never participated in a talent show before. 
"I just thought it would be fun to try something new," Durham says.  It took seventeen takes to finally get the video all in one shot. He was very excited when he was announced as a winner, and was met with lots of support from friends.  "I heard a lot of shouting in my Discord call so my friends were excited as well." 
"There's a lot of talent in Everett High, so I'm happy people liked my performance," Durham added.  
And finally, in first place, was sophomore Philip Fonseca singing a rendition of "Trainwreck" by James Arthur and playing the piano, which was nothing short of outstanding.  Every note and every ounce of emotion of his vocally stunning performance could be felt by the audience. 
This became even more impressive when he revealed that the video he submitted was only meant to be a practice take.  Given his impressive talent, it is surprising that Fonseca is not a member of any musical groups at EHS.  He sings on his own, and it has been a passion of his for his whole life. 
"I don't really know the time that it started; it's always been there," Fonseca says.  Fonseca was added to the Zoom call of judges to deliver a short acceptance speech.  The joy and excitement radiating from him was tangible to all who were watching.  When asked how he felt when he won, he tells us that his brain was all over the place, and in the heat of the moment, he thanked his dog.  "I don't even talk to my dog.  I like him, but why did I thank my dog?" 
Fonseca's undeniable talent and amazing performance will not soon be forgotten by the EHS community.
If you were unable to watch the show live, you can still view it here on YouTube.
View Comments (1)
About the Contributor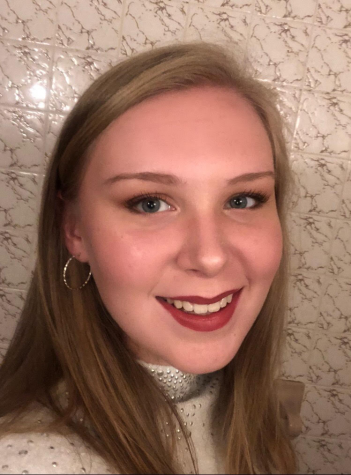 Emma Santos, Editor
Emma Santos is a senior at Everett High School.  She was born in Boston and has lived in Everett for her entire life, but when she is older she wants...