Selena Gomez shows pride in heritage with second song in Spanish
10 years since her first Spanish-language song, the singer embraces her Mexican roots again with "De Una Vez."
Selena Gomez, best known for playing the role of Alex Russo in the original Disney Channel series, 'The Wizards of Waverly Place,' begins the new year with a Spanish-language single 'De Una Vez', a song that has already been played over 33 million times on YouTube.
The song, described as an embrace of "her heritage as a proud Latina," seems to talk about love sickness. However, when listening closely, the singer is actually talking about her personal growth.
"We all suffer the damage and scars left by certain life experiences, but this is how we heal," Gomez said in an interview. 
Although nothing is official, many of her fans believe the song is another allusion to her failed relationship with famous pop singer Justin Bieber.
In order to fully understand the message of the song, it is necessary to watch the video, because in it, Selena walks through different rooms of a house, which have a unique meaning for the singer. One of the rooms is full of lighted lamps that go out, which could represent the darkness that Selena has gone through in her life.
In the video, we can see Gomez in a flowery dress paying tribute to Mexican painter, Frida Kahlo, who produced works that highlight indigenous Mexican roots; in addition, a heart-shaped necklace hangs around the singer's neck at all times, which narrates the healing process throughout the video.
Even though Selena Gomez has not released a complete song in Spanish for 10 years, her improvement in pronunciation and fluency with the language are notorious and are to be admired. 
By releasing a song entirely in Spanish, Selena is giving more visibility to the Hispanic and Latino community both within and outside the U.S. borders. Her fans are grateful and excited about this gift from the singer. Several murals with the caption "De una vez, Selena Gomez, Baila Conmigo," have been painted on different walls in some Mexican cities, such as Mexico City, Monterrey and Guadalajara.
Gomez, being a bilingual singer, has the competitive business advantage of expanding into the Hispanic market. In addition, singing in another language opens new doors to other cultures in a unique way. 
"I am proud and excited about her incorporating and showing off her Hispanic identity in her career as a musician," junior María Herrera said.
Rumor has it that Selena has a new Spanish song, or an entire album ready, as the words "Baila Conmigo," appear at the end of the video, causing fans to speculate that it's the name of a new project. 
"This is something I've wanted to do for 10 years, to work on a Spanish project, because I'm so, so proud of my heritage, and I really felt like I wanted this to happen," explained Gomez.
Regarding her musical career, with her previous album, 'RARE', Gomez achieved her first number 1 on the Billboard Hot 100 with the single 'Lose You To Love Me', and the album also debuted at the top of the Billboard 200 list. 
Gomez has accomplished all of this without putting aside her social work with initiatives such as the RARE Impact Fund, with which she committed to raise $100 million to fight mental illness and improve the living conditions of the most disadvantaged.
Leave a Comment
About the Contributor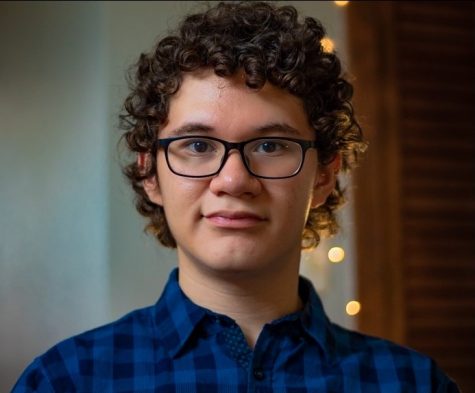 David Rivera, Photographer, Reporter
David Rivera is a senior at EHS. He's a photographer of the Crimson Times and a marketing student. Charisma and optimism are qualities that describe him...