Gomez dips into reggaeton with follow-up single
Fresh of the success of her first Spanish single in 10 years, "De Una Vez," Selena Gomez does it again with "Baila Conmigo."
Two weeks after the release of her first Spanish song "De Una Vez," Selena Gomez surprises fans by singing reggaeton in Spanish with "Baila Conmigo," a duet with  Puerto Rican rapper Rauw Alejandro. 
"Baila Conmigo" was released last week with a live stream on YouTube. The stream had almost 124,000 viewers connected. The music video was ranked the #4 trending video on YouTube in its first 24 hours after its release, and remained in the top 25 trending videos throughout the weekend. The video now has more than 21 million views.
"Selena sounds better in Spanish than in English," confessed junior Melani Medrano. "She also adds a mixture of emotions to her song when she sings in Spanish, the emotions are immaculate."
Starring in the music video were Brazilian dancers Kibba and Ariane Aparecida. Throughout the story we see that our dancers do not seem to speak the same language, but they confess their love for each other through dance. The music video was shot in Miami, Los Angeles and Brazil, and was directed by Brazilian filmmaker Fernando Nogari.
After releasing "De Una Vez," rumors swirled that Gomez's next single would be titled "Baila Conmigo". Now, we know that those rumors turned out to be true. 
Gomez has since announced that the project she has been working on for the past ten years will be a full EP in Spanish, titled REVELACIÓN, which will be released on March 22.
"I'm so excited to share this with you, and so proud of my heritage," said Gomez in a tweet when 'Baila Conmigo' was released.
Gomez's future in the Spanish market looks promising, even more so with this reggaeton song. 
"Selena Gomez entering the Hispanic Music Industry means that she's looking to reach new audiences and potentially evolve her style as an artist," said Marcela Cruz, bilingual singer and Senior Manager at Havas Media. "At the end of the day her brand is a business. As an artist I understand wanting to change up how you deliver your music to fulfill the different interests and tastes you have, but it does come with the responsibility of being true to the music you're making and the people you're bringing it to."
Since its launch, the song has also made its way to the GenZ dominated social media platform TikTok, where the hashtag #BailaConmigo has been trending.
Leave a Comment
About the Contributor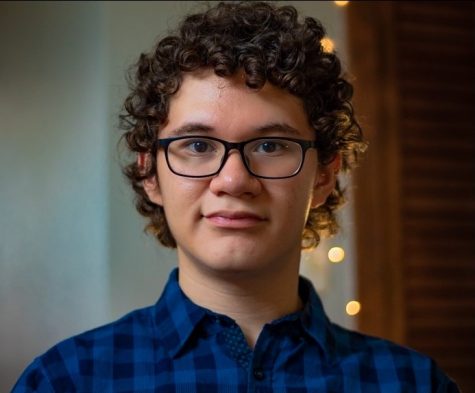 David Rivera, Photographer, Reporter
David Rivera is a senior at EHS. He's a photographer of the Crimson Times and a marketing student. Charisma and optimism are qualities that describe him...