World Cup Fever grips EHS
The halls and cafe are buzzing with excitement. Everyone's talking about it. Many are finding it hard to stay focused in class. Students and teachers are wearing jerseys and flags to show support for their country. The World Cup has brought Everett High to life.
"Soccer is a big thing in my culture and my family," senior Stephanie Perlera said. "I've watched every World Cup since I was a kid so it's very important to me. It's more popular this year because most students here are either immigrants or kids of immigrants. Our culture is very important, and we're learning to be proud of our heritage." 
"I'm always so passionate about the World Cup because the country where I'm from, Brazil, plays every year," senior Natalia Leal said. "The country is mostly based around soccer, so it's an important part of my culture. I look forward to the games because they only happen once every four years so when it's on, it's important for me to watch," Leal said. 
"I watch the World Cup every time," junior Joao Vitor Da Silva said. "It is fun watching my country win. Mostly my friends and family got me into watching it because everyone just talks about it and puts it on."
On Nov. 28, the Brazil vs Switzerland game was shown on televisions in the cafeteria to students and staff during their lunch periods. Many students could be heard cheering around the school when their team scores.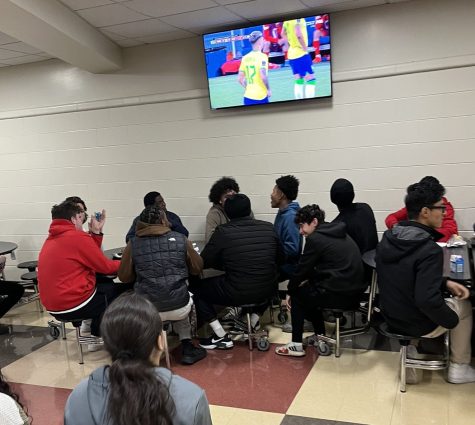 "Playing the soccer game on the TVs in the cafe was really good," police officer Matheus Neves said. "It was a great idea. The kids had a lot of fun and nothing bad came out of it. I'm Brazilian so I always watch the games when my country is playing. Hopefully, we will be watching the other games too."
Teachers have stated that the school environment has been more positive during the World Cup. 
"I feel that the environment at Everett High is great," physical education teacher Christopher Miller said. "It has been a fun World Cup with a lot of upsets. I'm a little disappointed to not see as much enthusiasm for the United States but I thought it was pretty cool when Brazil played the other day. 
"I think it's exciting, it brings people together," special education teacher Neil Plotnik said.
"It's very good for the school to build a community with different nationalities," physical education teacher Joel Levine said.  "I'm rooting for the U.S.A, but it's fun to see Brazil succeed because the kids get so much enjoyment out of it. I don't really care about soccer that much but I watch the World Cup. But for Brazilian students, this is what they live and breathe for. It's fun to watch them care about something so much."
Although many students are loving the World Cup so far, some students also find it distracting. These students can't focus in class due to all of the excitement of the games, and some students just don't have any interest in the World Cup at all.
"I've been seeing people watch the World Cup on their Chromebooks during class all week so far," sophomore Nella Enchano said.
"The French teacher put it on yesterday towards the end of class so I just watched it for fun," junior Kianna Ferris said. 
The 2022 World Cup is being held in Qatar from November 20 to December 18. There has also been some controversy with this location, including around the issues of LGBTQ rights, the death of many migrant workers during construction of the stadiums, and whether or not alcohol would be served at the games. 
"As a conservative Muslim nation, they find it difficult that there are people who are of different personalities and different lifestyles," Plotnik said. "It's supposed to be a welcoming environment for everybody."
"I also think they should take responsibility for the people who died building the World Cup stadiums, mostly young immigrant people from other countries who were working there," Plotnik added. "You have a responsibility to treat the people working there with respect and dignity."