'Sarai's Haircuts for a Cause' entertains school, raises donations and awareness
On the Thursday before April vacation, Everett High School hosted an event to donate hair to an organization called Children With Hair Loss, a Michigan-based organization that makes wigs for children with diseases that cause hair loss like alopecia and cancer. This event was created and organized by senior Sarai Velez, who survived leukemia last year and knows firsthand what it's like to suffer hair loss as part of her treatment.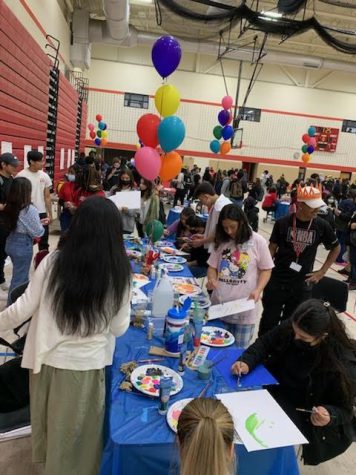 "What Sarai wanted to do—and we worked very hard with Sarai to do it—is to give back to the school, because there have been things in the school that have helped her," principal Erick Naumann said. "Sarai came to me and wanted to give back to the community, students and school that has helped her."
"At first, it was only going to be people who wanted to donate their hair," said Velez, "but [Superintendent] Priya [Tahiliani] and Naumann wanted to make it bigger and open to all the students. This is impactful to students because it lets students become more aware of those students who don't have the opportunity to have hair and even look 'normal' to society."
"Sarai did a lot of work researching different organizations that would take care," Naumann said. "The first company she saw, she didn't really like the organization. So she researched the Children With Hair Loss in Michigan. She put a lot of time into researching a company that was viable and real.  We had hairdressers come in and donate their time. We want to make it special to Sarai and people in the district."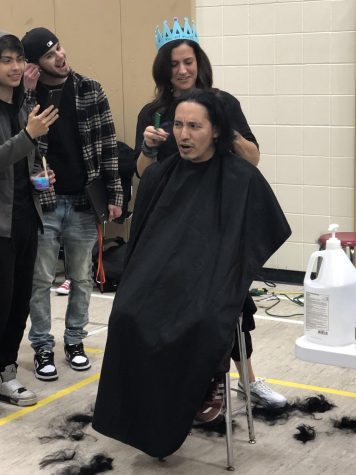 "It was a fun experience, especially before vacation," said senior Meliza Buenaventura Hernandez. "Just seeing the amount of staff and students actually showing up, staying and making cards for the kids that are battling cancer, that was nice. The food was good. Just the vibe in the gym was such a good feeling. I had the chance to help out the raffle table and it was fun."
"I am very proud of the work that Sarai has been doing for the school,"  senior Angelo Iraheta said. "She has been spreading awareness of something that one of my family members is currently going through. For that, she will always have the utmost respect from me."  
"Sarai is also very funny and just a good person to be around," Iraheta said. "She is an amazing person who uses her experience in the best way she can. She overcame a difficult time and now she is helping not only the class of 2022 but also other grades support a cause and also have fun."
"As we move forward, we are looking to continue supporting students' mental health with morale-raising events like this," Naumann said. "To help with difficult times that have been going on, to meet everyone's mental and emotional needs. We are using this opportunity to see how this stuff goes at the high school. We will continue to do it from now until the end of the year. And into next year for social and emotional needs for students."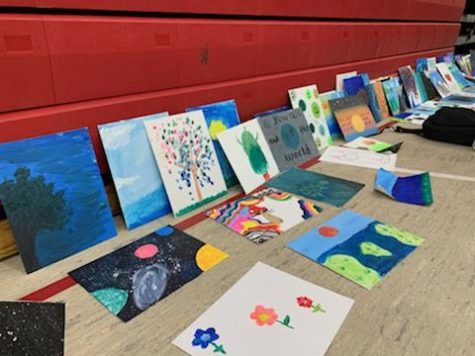 "There are going to be similar events, not maybe the same as Sarai's, but there are going to be other things that we are working with the district," Naumann said. "We want everyone to want to come to school and enjoy school, to learn at school, and along with all of the curriculum that we need to deal with, to also have social and emotional help for students."
"I feel like our school doesn't do enough events for charity or make the students give back and help the community enough," senior Leonardo Quintanilla-Zelaya said. "It can make for a fun time, a break from work. After they do what they gotta do, give them a slush and maybe everyone will be happy."
Children With Hair Loss is a non-profit organization that provides Children With Hair Loss at no cost to donors or children with cancer treatments, alopecia, trichotillomania, Burns and other medical hair loss. CWHL was started by Regina Villemure, a hair replacement specialist. The organization relies upon hair donations and money donations. Hair donation requirements are at least eight inches long, dry, clean, and either braid or ponytail. Another form of donations you can make is by buying their merchandise.