A tribute to the Queen of Tejano, upon hearing that her killer is eligible for parole in three years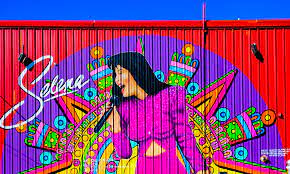 Coming from a mixed family, I was exposed to a lot of different music from both sides. I like a lot of artists but one of the artists that I know really well is Selena, the Queen of Tejano.
Selena was born in Lake Jacksonville, Texas to Abraham Quintanilla and Marcella Ofelia Quintanilla. She grew up in Corpus Christi, Texas, with her two older siblings, Suzette and A.B.
One day, her father was playing guitar and Selena went and sang with him. That's how he knew that Selena was going to be a big star one day. It was at that point that Quintanilla put his kids in a band, which they called Selena y Los Dinos.
Growing up with a strict father was hard. Especially when it came to his kids dating or trying something new. For example, when Selena wanted to record an English album, her father would always say it wasn't the time yet. Quintanilla put off recording an English album so much to the point where Selena wasn't even around to watch her fans enjoy it.
Selena also had a dream to become a fashion designer and open up her own stores all over the state of Texas, from Corpus Christi to San Antonio. Like so many other times, her father was always asking her, "Can you handle it?' Selena knew she could handle it with the help of some people, which is how she met her psycho fan Yolanda Saldivar.
Quintanilla said in an interview that Selena believed there's no evil in the world or in people, and Selena refused to see it in Saldivar after people warned her about her. Yet, her father and the whole world could see right through Saldivar's act. He told her that Saldivar was embezzling money from her. That's when Selena really started to open her eyes. Saldivar had to think about how she was going to be able to talk to Selena and tell her side of the story. In this case Saldivar was acting as a criminal manipulator.
Selena caught on when Saldivar was constantly changing her story and kept lying to her just so she could keep talking to Selena. One day when Saldivar showed up at the Days Inn Hotel where she claimed to have wanted to take her own life away.  Instead she took La Reina de Tejano's life. After the murder, she called the police and told them, "I killed my best friend." Nine hours later, she surrendered herself.
Now Saldivar is serving her sentence for first degree murder at Mountain View Unit in Gatesville, Texas. The court gave her 30 years in prison with a possible chance for parole in 2025.
I don't think that she should have parole because she took her life away. People who have murdered people are just too dangerous to be out into the world and to be around people.